Fountain Instructions
submitted by myownlittleworld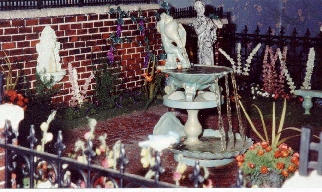 see larger photo in photo album
To make realistic looking flowing water in a fountain, I use Artist's Acrylic Gloss Medium and Casting resin.
I fill the fountain with the casting resin, and allow to dry usually 24 hrs. is sufficient.

Fill the parts of the fountain that are to overflow right up to the brim.

While this is drying, thickly paint the gloss medium on wax paper, and allow this to dry at the same time.

When it is dry, peel off the wax paper and with scissors or craft knife, cut into thin, irregular shaped strips.

Glue the top of the strips to the resin in the fountain where you want the water to overflow with tacky glue.

Glue the bottom of the strip to the water below, where you want it to fall, making a twist or two in the strip.

Do this however you think looks best to you.

When the glue is dry, over a period of time, paint more gloss medium onto the strips and allow to run down the strip.

Do this as many coats as you deem necessary for the look you want, drying in between coats.

Use your back button to return to Craftroom for additional projects